Ocean's 8
(2018)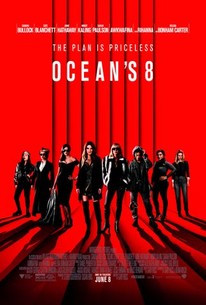 TOMATOMETER
AUDIENCE SCORE
Critic Consensus: Ocean's 8 isn't quite as smooth as its predecessors, but still has enough cast chemistry and flair to lift the price of a ticket from filmgoers up for an undemanding caper.
Movie Info
Upon her release from prison, Debbie, the estranged sister of legendary conman Danny Ocean, puts together a team of unstoppable crooks to pull of the heist of the century. Their goal is New York City's annual Met Gala, and a necklace worth in excess of 150 million dollars.
News & Interviews for Ocean's 8
Critic Reviews for Ocean's 8
Audience Reviews for Ocean's 8
Eight? Why eight? As a sequel to Ocean's Eleven, Ocean's Twelve, and Ocean's Thirteen, you'd think that the next logical title for the next film would be Ocean's Fourteen. Perhaps they realized that having fourteen main characters would be quite a mess, or perhaps this is a new method of subverting audience expectations. Anyways, Ocean's 8 is a (sort of) sequel to the popular Ocean's trilogy directed by Steven Soderbergh and starring George Clooney, Matt Damon, and Brad Pitt. It was a release that I was looking forward to, and it's one that hits some of the spots that I was hoping for but missed the mark in others. Ocean's 8 is a heist film directed by Gary Ross, with Steven Soderbergh in the producer's position this time around. It features a marvelous all-female ensemble cast consisting of Sandra Bullock, Cate Blanchett, Anne Hathaway, Helena Bonham Carter, Mindy Kaling, Rihanna, Sarah Paulson, and Awkwafina. This introduces my most obvious point: I was incredibly satisfied with the performances given in the film. Sandra Bullock, my favorite actress, plays the lead character, Debbie Ocean, and delivers a performance that characterizes someone who is sly, devious, cunning, cool, and lovable all at the same time, much like George Clooney did in the original trilogy. Each of the other actresses brings something unique and charming to the table: Cate Blanchett brings intensity and logic, Anne Hathaway brings sassiness and "diva-ness", Helena Bonham Carter adds quirkiness to the mix, Mindy Kaling brings her trademark comedy, Rihanna brings a surprisingly cool and likeable presence, and Sarah Paulson brings some extra lovability and smarts to the team. Awkwafina's character was the only one that felt out underdeveloped and uninteresting compared to the rest. However, as a whole, the team assembled in Ocean's 8 is fantastic and very easy to get behind. Like the Ocean's trilogy, each character has their own unique set of skills and personality that makes for an effective on-screen team. The bottom line is, they all work well together. The fact that Ocean's 8's team is assembled so well earns the film major points. The next thing to check on the list is the storyline, something that is essential to any heist film. Anyone who is familiar with the work of Steven Soderbergh probably knows the aforementioned Ocean's trilogy fairly well and may also have seen 2017's Logan Lucky (highly recommend that one, by the way). Those who have seen those films probably know that the plot follows a very tried and true formula: main character wants to pull a heist, main character assembles team, team prepares for heist, team executes heist, team runs into small problems during heist, team succeeds in heist, team lives happily ever after. Thrown into the formula are personal grudges that the main character has against someone that makes the heist a personal vendetta. Ocean's 8 very closely follows this formula, which is both a good thing and a bad thing. On the good side, the formula has been used so many times that filmmakers have realized how effective it is. And that holds true here: this formula makes the film entertaining and keeps the pacing fast and fun. On the bad side, the formula has been used so many times that it is now predictable and worn. And that also holds true here: I felt like I had watched this movie many times before, making it less exciting than it could have been. I have more nitpicks with Ocean's 8, which again deal with the plot of the film. Like I already mentioned, it follows the standard heist formula that we're all accustomed to by now. Part of that formula involves setting up some sort of conflict that complicates the narrative. Personally, I've never been a huge fan of this technique, because, for me, it adds extra "fluff" to the film that isn't necessary. Ocean's 8 doesn't make any real attempts at doing this. Now, based on what I just said, you might think that this is a good thing. However, as a result, everything that happens in the film just seems so... easy! Every time the team runs into some sort of complication in preparing for the event, they call some random side character that fixes it. Whenever something goes wrong in the midst of the heist, things somehow resolve themselves with little issue. This made the film's execution feel much less satisfying, and I felt cheated at the end because of the lack of tense moments or nail-bitingingly-close calls. Those things are essential to a heist film, and Ocean's 8 just didn't have that. This becomes even more apparent at the film's conclusion, which brings up my final nitpick: Ocean's 8 ends in a mess. So many things happen in a short amount of time: characters are introduced, people reveal secrets or hidden motivations, subplots are introduced and then quickly resolved... it was very scatterbrained writing. Perhaps I'm picking apart Ocean's 8 more than I should be. Besides, it's meant to be a fun, enjoyable heist film populated with famous actors, high(ish) stakes, lots of cool planning and technology, celebrity cameos, and a stylish heist. On those fronts, Ocean's 8 succeeds marvelously. And, despite my criticisms of the film, I thoroughly enjoyed the film. Still, the problems that the film had prevented it from being anything particularly memorable and made it less than the worthy successor that the Ocean's trilogy deserved. I strongly considered giving Ocean's 8 2 out of 5 stars, but I have to remember that I still had fun in the theater and was never bored. So, I'm confident in my decision to give Ocean's 8 a modest 3 out of 5 stars.
Paul Fuchs
Super Reviewer
Regardless of the concept, I've always been intrigued every time a new heist movie makes it to the big screen. The sheer notion of watching a group of people flawlessly pull off something that most people would be crazy to attempt is quite entertaining for many reasons. Ocean's 8 is the latest film of its kind to hit theatres and with the weight of the previous trilogy on its shoulders, there was a high bar to meet. I'm a huge fan of the previous remake of Ocean's Eleven and while neither of the sequels quite match the quality of it, I was hoping Ocean's 8 would steer this franchise in a new direction. While I did enjoy watching this movie, for the most part, I did find myself pretty disappointed by it as a whole. I can't quite recommend this movie as a great film, but if you're a fan of the franchise, here's why you may find some enjoyment in its latest addition. Ocean's 8 follows the sister of Danny Ocean (George Clooney from the previous films) in Debbie Ocean, as she is released from prison and has plotted to rob the Met Gala in New York City. The plan is to steal a necklace that's worth over 150 million dollars, so naturally, she finds a group of women who are very interested in helping out. All having their quirks, they each become a necessity in accomplishing this task. Quite honestly, aside from the first film, this was probably my favorite heist sequence when looking back at the franchise, but if that's all the movie has to offer, then a lot will be left to be desired. A slow build up is fine if your climax pays off in a big way and for that alone, I found a lot of enjoyment from the movie as a whole. The very meticulous plan makes for an engaging climax and I was sucked into the movie until the very end. That being said, the first act of the movie nearly put me to sleep. This movie takes a very long time to peak your interest. Yes, there are a few interesting characters and some humorous moments will keep you interested, but I didn't find those elements to be enough. I found myself breathing a huge sigh of relief when the actual heist began because the movie didn't seem to have a pulse until that point. Luckily, the dull moments were held together by some likable actresses. From Sandra Bullock to Cate Blanchett, Anne Hathaway to Sarah Paulson, and even Rihanna to Mindy Kaling, everyone had their moment to shine here and I was having a blast watching these characters interact with one another. Sadly, those moments are few and far between. These actresses give their all with what they're given, but the script (aside from the plotting of the climax itself) just felt a little generic. A group of women gets together to do a heist and the circumstances are very much the same as the first film in the franchise. Nothing new was brought to the table, which was the one thing I was hoping for with this movie. Fans of the franchise may have some fun with the movie when it truly kicks into high gear, as I surely did, but the overall movie is frankly average. In particular, I found some of the unique editing choices to be slightly cheesy and I'm not sure if the movie's style worked all that much. The pacing is off in many places and it seems as though music is used throughout the first act to liven up a scene and prevent it from being boring. For all of these reasons and more, I can't quite recommend this movie to many viewers, but if you enjoy watching a good heist, that portion of this film is worth the price of admission in my opinion. While it's not something you have to rush out and see at the cinema, Ocean's 8 is worth renting.
A few years ago when the very mention of an all female Ghostbusters movie sent some (idiotic) fans into a rage, it was an undeniable risk to announce an all female remake/reboot/sequel of the Ocean's franchise. Not because a heist film with all women would fail in quality, but because there's a certain section of people who just set out to automatically hate change in franchises they love. Luckily, Ocean's 8 doesn't just trample on any of those questions, it destroys them. It's silly that the first few sentences of a review even have to address that, but luckily, the film makes you forget that such a point of view even exists. With an all-star cast of female powerhouses, and a few interesting casting choices, Ocean's 8 succeeds in reinvigorating a franchise that we didn't know we needed to be invigorated. The beginning-middle act does drag a little bit, but once the ladies begin the mission, the film takes off to deliver some of the most fun this summer can probably offer. As per usual, there's things you don't expect and twists that pay off at just the right time. Admittedly, this film follows Ocean's 11 almost note for note, but if it succeeds on entertainment, a remake/reboot/re-quel/sequel doesn't necessarily need to reinvent the wheel. In short, I sure hope the movie does well enough to warrant an Ocean's 9. 8.6/10
Thomas Drufke
Super Reviewer
Ocean's 8 Quotes
There are no approved quotes yet for this movie.