Tag
(2018)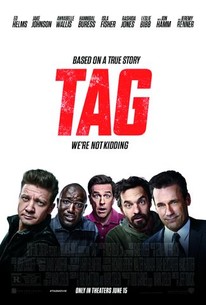 Movie Info
For one month every year, five highly competitive friends hit the ground running in a no-holds-barred game of tag they've been playing since the first grade--risking their necks, their jobs and their relationships to take each other down with the battle cry "You're It!" This year, the game coincides with the wedding of their only undefeated player, which should finally make him an easy target. But he knows they're coming... and he's ready. Based on a true story, "Tag" shows how far some guys will go to be the last man standing.
News & Interviews for Tag
Audience Reviews for Tag
½
There are times when a true story lends itself to a film in an emotionally resonant way and other times when it's simply done in order to impress or deliver laughs to an audience. That being said, Tag is a rare film that sort of relies on all of those things and more, which sort of makes for a weird experience at the movies. I have been looking forward to this film for a while and hearing that it was based on a true story made me that much more intrigued by it. Personally, I enjoyed my experience watching this film, but upon reflection, I can see why many viewers may find it boring or wish for it to be a much funnier romp. Here's why I would recommend Tag if you can check your expectations at the door and not expect it to be a hilarious movie from start to finish. Following a group of friends who have been playing the same game of tag for over thirty years, as a way of staying friends, they make it their mission to finally tag their friend Jerry, who has been the champion forever. Yes, the plot is silly and outlandish, as is the movie itself, but the fact that people are actually out there in the real world doing this, made for a much more subdued experience. At its core, this is a film about friendship and the comedic aspect of this film simply comes from whenever the writers decided to add jokes into the core premise of the movie. The emotional core is really what hooked me throughout this movie. It seems strange to say that the dramatic aspects of a movie that follows older men playing tag are the best portions of the film, but that's truly where I found myself most impacted by it. Yes, there are some very funny lines of dialogue that I'm still replaying in my head, but they are few and far between, making way for the third act, which isn't exactly the type of conclusion I was expecting. Without giving anything away (and if you don't know the way this true story ends), this film ends on a note that actually had me slightly tearing up. This truly is a movie about friendship, first and foremost. For that reason alone, I forgave the fact that it wasn't loaded with comedy. Now, that's precisely why I believe certain viewers will be turned off by this film. Most people will look at the trailers and think they're going to see a laugh riot, and like I said, there are jokes that work very well, but it's sort of a blend of both comedy and drama. If you're able to gravitate toward that throughout your viewing experience, then I can definitely say this is the movie for you. A good story always trumps good jokes in my opinion. A movie could have lame jokes, but if the core plot is holding it together, then it's not a complete flop in my opinion. Tag benefits from a very dedicated cast, with standouts being Hannibal Buress and Jake Johnson. These dedicated performers made this a very believable (albeit ridiculous) movie to watch. With some clever editing choices and quite frankly some cool choices in terms of cinematography, this movie tried to be much more than it needed to be, so I absolutely have to commend it for that. This is a comedy that you shouldn't be seeing for the comedy, but you'll still be rewarded with some hilarious moments. See this film for the camaraderie of friendship and I think you'll have a good time with it, as I did. It's not a great movie by any means, but it's a solid time at the movies.
Tag Quotes
There are no approved quotes yet for this movie.